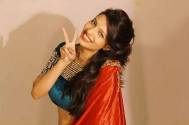 Soni to run away from her wedding in Begusarai
Post leap, &TV's Begusarai (Swastik Production) has become even more interesting.
True to its concept, the show has a new drama in store, which will shock you all! As per the ongoing track, Mahathakurain Bindiya (Shweta Tiwari) has learnt about Soni's (Riya Deepsi) relationship.
Now, in the upcoming episode, loyal viewers of the daily would see Bindiya forcing Soni to get married to an MLA's son.
As per a reliable source, "Bindiya would announce Soni's marriage and invite the entire Begusarai. The Thakur clan and village would get into a celebratory mood. However, Soni would be completely against the marriage. As the nuptial moments inch closer, she would decide to take a drastic step."
Our source adds, "While alone in her room, she would run away from the festivities. And Ananya (Veebha Anand) would help her in doing so."
There would be chaos, thanks to the runaway bride. However, the Thakur boys would learn about Ananya's involvement in Soni's drastic step.
Will the Thakur boys find their sister? How will Mahathakurain Bindiya react to this humiliation?
We tried calling both Riya and Veebha, but could not get through to them.
Watch this space for more updates.