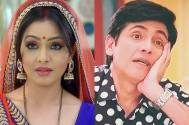 Angoori to SLAP Vibhuti in &TV's Bhabhiji…
Fans of &TV's Bhabhiji Ghar Par Hai (Edit II) gear up for some hilarious drama in the daily. The show which is appreciated for its light hearted comedy will see some high-voltage drama.
The much love duo Angoori (Shubhangi Atre) and Vibhuti (Aasif Sheikh) will see some tough time in the show.
As per a reliable source, "In the coming episode Angoori will tell Amma that Tiwari's (Rohitashv Gour) business is not doing great. Amma will tell Angoori to slap the man who she will see first in the morning. This superstitious act will help get back the business smooth again. Vibhuti will be the first person to come in front of Angoori and she would then slap him."
Well, the behind story is that for this particular sequence Aasif was teaching Shubhangi how to slap. It was a hilarious scene.
We called Shubhangi but the lady remained busy.
Are you looking forward to this comical sequence?