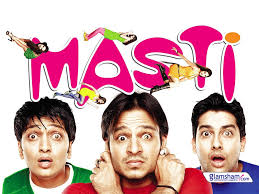 Get ready for a dose of ADULT COMEDY on television!
If things work out, then this will be another progressive step towards the change of content on television.
The house of Sri Adhikari Brothers telefilms is keeping very busy these days.
Tellybuzz broke the news about their new channel Happii which will be presenting light hearted comedy shows. Sri Adhikari Brothers have made their mark in both television and film space and with their channel Happii, things will take a turn for the better for sure.
One of the flagship shows on their new channel, will be an adaptation of their own film 'Masti'. The production house is making a television adaptation of the movie and the series will be a 5-6 episodic finite series.
The show will also progress in the same way as the movie. Currently, the show is in its casting stages but it would be interesting to know who fits the final bill to play Ritesh Deshmukh, Aftab Shivdasani and Vivek Oberoi's characters in the show.
The show will be produced in-house by the SAB group itself. And it is being speculated that the show will be launched along with the channel in the month of March.