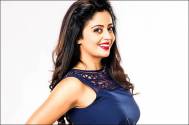 Nehha Pendse not interested in marrying an actor
Actress Nehha Pendse, who is currently seen as Sanjana in "May I come in Madam?", says she is yet to come across the right person to settle down with. However, she knows that she wants to marry a "non actor".
"I haven't come across the right man. Ideally, I want a non actor," Nehha said in a statement.
Nehha made her debut on the small screen as a child artist with the TV show "Hasratein", that was aired in 1990s.
In "May I come in Madam?", she plays the role of a boss, who is often seen flirting with her colleagues.