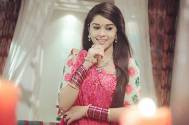 Raja to molest Dhaani in Colors' Ishq Ka Rang Safed
Ishq Ka Rang Safed (FilmFarm) on Colors has never failed to entertain us, with the dramatic moments introduced in the plot.
The upcoming track in the daily will be an interesting one to witness.
For the uninitiated, Raja (Khushwant Walia) always had evil intentions in his mind to embarrass Dhaani (Eisha Singh).
In the coming days, we hear, the man will try to commit a heinous act.
A source associated with the daily reveals, "Raja will trick the members of Tripathi family to visit temple. As Dhaani will come to Tripathi house, she will find no one except for Raja to be present at home. Taking undue advantage of the situation, Raja will try to molest Dhaani".
Oh no, so what will Dhaani do?
Well we hear that while Dhaani will try to fight back with the cunning man, Viplav (Mishal Raheja) will reach the place at the nick of the moment. Like a true action hero, Viplav will fight with Raja to save his wife's dignity and honour.
This man for sure makes a good husband.
We tried reaching Eisha for a comment, but the lady remained unavailable.