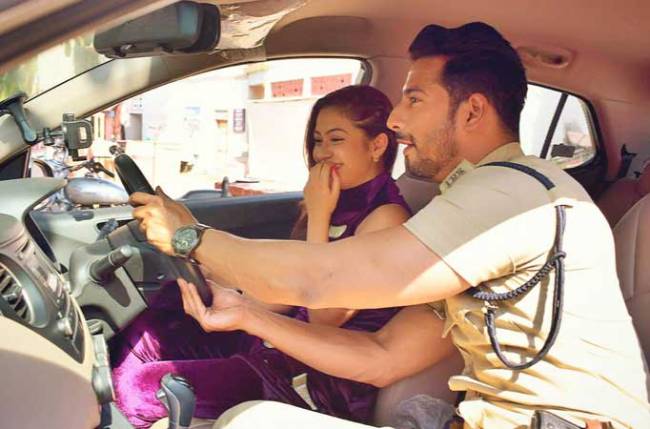 Sehban Azim gives driving lessons to Reem Shaikh on the sets of Tujhse Hai Raabta

The television industry is always buzzing with rumours about catfights and arguments between co-actors. It is refreshing, then, to find television co-stars who not only get along beautifully but also share a great camaraderie, both on and off-screen. Speaking of which, one such pair whose bond has evolved from being just co-stars to turning into great friends is that of Kalyani (Reem Shaikh) and Malhar (Sehban Azim) of Zee TV'sTujhse Hai Raabta.
The actors are often spotted chit-chatting nonstop, clicking numerous pictures together, sharing food and fooling around in between their shot breaks. But now their friendship has taken another leap and has bolstered into that of a teacher and a student. It so happened that Sehban and Reem were discussing their love for travel and exploring scenic beauty via road-trips and that's when Reem disclosed that she doesn't know driving, much to Sehban's surprise! Well, upon hearing this, he not only highlighted the importance of driving to her but also offered to teach her driving during their free time on-set. Sweet thought, we must say!
Talking about the same, Reem Shaikh said, "During my discussion with Sehban I realized how important it is to know driving and all this while I never took it seriously. My father had tried teaching me earlier, but I never paid much attention to it. I am glad, Sehban volunteered to give me driving lessons as he an excellent driver himself. We have decided to utilize our free time on sets to learn driving. Sehban has been a patient and great driving coach and in turn, I have also decided to take this opportunity to finally learn how to drive. I am quite excited and hoping this becomes another fun thing we do together on sets."
Adding to this, Sehban commented, "I'm an avid traveller and love exploring new places and going on long drives. When I had a discussion with Reem I was surprised when she told me that she couldn't drive. I immediately decided to help her out and teach her driving which in today's day and age is very important life skill. She should know how to drive because it's always comes in handy as it empowers you and gives you a sense of independence. I'm sure this will add to our fun and drama on-sets between our breaks and I am looking forward to help her hone the skill"