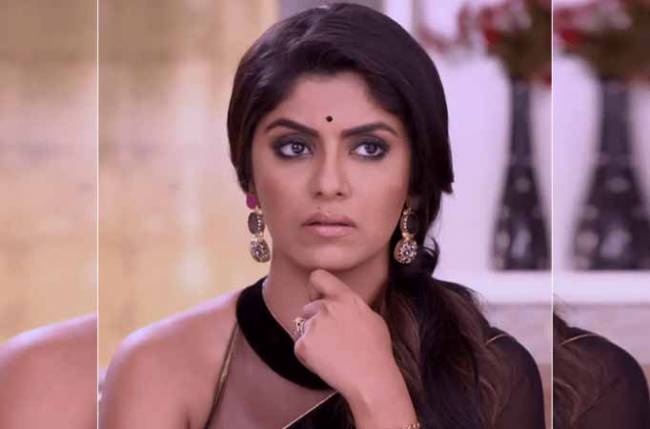 I wasn't prepared for my exit from Naamkarann: Sayantani Ghosh

Mmubai, 03 February 2018: Star Plus' popular series Naamkarann (Guruodev Bhalla and Dhaval Gada) is known for its stellar cast.
Where every character associated with the show has been special and essential in their own way, Neela (played by Sayantani Ghosh) has been one of the most loved and key characters of the daily soap.
Neela has been one of the strongest pillars in the female protagonist Avni's (Aditi Rathore) life and just the way she was loved by Avni onscreen, she has equally received a lot of love from fans as well. But as all beautiful things come to an end, Neela's character is making an exit from the show as she will get shot to death. The fans have been equally heartbroken with this news just like Sayantani is about parting ways with her character and show.
In a conversation with tellycolors, Sayantani talks about her journey with Naamkarann as Neela, her future plans and a lot more.
Excerpts from the conversation –
Sayantani shares, "First of all, I would like to clarify that I am not quitting the show. It's the need of the story because of which my exit is happening. I have a lot of gratitude towards the show because it has given me a lot. I am the only actor here who has been here since the initial days and I have been showered with a lot of love from the fans. There have been a number of tweets from the fans for me ever since the news about my exit has been broken."
Naamkarann indeed has been a very special show in Sayantani's career and she shares the reasons herself. She told us, "My character Neela has been based on step mom and that's what makes this show even more special. It has respected the beautiful relation of Avni and Neela who are not biologically related. Neela, the step mother of Avni had a huge contribution in her life."
"As actors, we do a lot of show but there is always one show that connects with your soul and Naamkarann has to be the one for me. Neela has been a fantastic role to play and the love of the audience that I have received, says it all. You get to see such strong characters on television very less. Neela had left her husband and not only accepted her step child but also loved her unconditionally. She has always stood for the right and it takes a lot of courage to do that. She dedicated her life for someone else's child. She also had a lot of shade, she has been emotional a loving mother yet modern," Sayantani added.
We further asked Sayantani about her feeling on the last day of shoot and she commented, "It will be emotional as I am the only actor from the initial cast. I have learned so much from my Naamkarann's journey. It's very rare to get workshops in the TV space like the one we did for Naamkarann. I still remember that there was a particular song that was supposed to be recorded especially for my role and Mahesh Bhatt Sahab wanted me to be a part of the recording so that I get into the skin of the character well. We hardly get so much time to go through such process for TV show for we did it for Naamkarann and it has been a very enriching experience."
It's been really a fulfilling journey for Sayantani with Naamkarann and sharing more about the same, she continued, "It's been one and a half year journey. There was a time when Neela and Sayantani had blended into each other and it was difficult to differentiate between them. We do a lot of hard work for every project but only few shows like Naamkarann touch your soul. I wasn't prepared for this exit. Suddenly the makers wanted it as a surprise element in the show to give it a push. I will be parting away with a very happy note and there is no ill feeling. I got to work with a team of some fantastic people. My producer and channel have been very cooperative. Its saddening that I am parting away with the show and the team."
What do you think of Naamkarann?
Lastly, we asked Sayantani about her future plans. She revealed, "Probably I will go back home to meet my parents. I will be on a short break and let's see how life unfolds from here and what opportunities come my way."
We wish Sayantani all the best for her future endeavors.