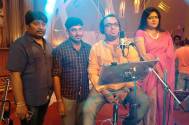 Aakash Aath launches The Legends Season 2
The hardcore 'old songs' admirers can smile as Aakash Aath is all set to launch its second season of the musical show titled 'The Legends'.
The show is a tribute to legends like RD Burman, SD Burman, Kishore Kumar, Laxmikant Pyarelal, Manna Dey, Lata Mangeshkar, Amitabh Bachchan and many others.
Each episode will be a tribute to each of these legendary artists. It would see one participating guest artist in each episode who will render his/her voice to the old classics.
Some of the well known singers to perform in the programme include Monomoy Bhattacharya, Raghab Chatterjee, Nachiketa Chakraborty, Kinjal Chatterjee, Keka Ghoshal, and Amit Ganguly.
The show will be hosted by one of the popular lyricists of Bengal, Sreejato.
Debjit  Roy, music composer of The Legends , said about it, "The earlier season had received immense positive feedback from our viewers. The popularity has inspired us to bring it back. The aim of the show is to remember our legendary singers. It would make people nostalgic of the golden singers of the earlier ages."
"Season 1 had highlighted the musicians of 60s-70s but this year we are planning to emphasize on the musicians of 80s-90s as well. This would make the show colourful," he added.
Directed by Supriyo Ghosh, it will start from 16 May, airing Monday to Wednesday, 9.30 pm.