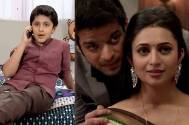 Adi's film on Raman-Ishita to spice up Yeh Hai Mohabbatein
One of the most popular shows on the small screen, Yeh Hai Mohabbatein (Balaji Telefilms) on Star Plus, is all set for an interesting track in the coming days.
With the family reconciling with Adi (Gautam Ahuja) and Ruhi (Ruhaanika Dhawan), it's time for some fun and frolic in the epic drama!
In the upcoming track, Adi is given a project in school where he has to shoot a film on his family. He wouldn't know how to convince his parents as Raman (Karan Patel) will refuse to act, while Ishita (Divyanka Tripathi) is in a leg cast.
So what will the youngster do?
Shares a source, "This is when the family would come to his rescue by setting up an audition for actors! Viewers will have a fun time watching people audition for the roles in their unique ways!"
Since the auditions would be a total disaster, Adi and Ruhi would cast the other family members in the roles of Raman and Ishita.
Hence, Mihir and Rinky (Raj Singh Arora and Resha Konkar) will be seen playing Raman and Ishita and Simmi (Shireen Mirza) will don the role of Shagun (Anita Hasnandani).
We spoke to Shireen, who said, "It will be a great sequence as many interesting twists and turns have been planned'"
So gear up for a fun filled time on Yeh Hai Mohabbatein.