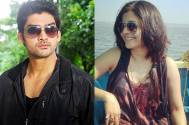 When Aditya Redij thanked Nivedita Basu
Handsome hunk Aditya Redij who was missing from TV is back with a bang!!
The Na Aana Iss Des Laado fame actor is currently seen in &TV's Meri Awaaz Hi Pehchaan Hai opposite Kalyani played by Bollywood beauty Amrita Rao.
Recently we met Aditya at a recent event and got talking to him.
The actor shared with us that he was super happy when he got the role in Nivedita Basu's show. And the first thing he did after his confirmation was to call the producer and thank her.
Aditya said, "For every producer their first show is like their first baby and they give their heart and soul to it. AsMeri Awaaz was Nivedita's baby, I knew she will put all her efforts to do justice to the soap. I am thankful to Nivedita for allowing me to be a part of her first show. I will definitely make it a point to work harder for her."
That's great Aditya!!!