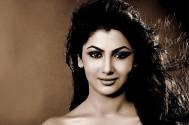 Awards are reassuring and encouraging, says Sriti Jha on her DOUBLE Tellys win
The simpleton and elegant Sriti Jha, better known as Pragya from Kumkum Bhagya is on cloud nine after winning two prestigious awards at the 14th Indian Telly Awards.
The talented actress has won the awards in the categories, Best Actress in a Lead Role and Best Jodi on TV.
Sriti expressed her feelings on the victory, "I feel extremely fortunate. Kumkum Bhagya is very close to my heart and this moment is absolutely elating."
Who would she like to dedicate her award to? "I'd like to dedicate the award to my entire team of Kumkum Bhagya."
When asked Sriti, why she and Shabbir make for the best on-screen jodi, she shared with a pretty smile, "Because Shabbir is simply the best. He is the best person to ever work with and that chemistry is highly visible on screen."
As an actor, are awards really necessary? "Well one should work hard irrespective of anything. But awards are surely reassuring and encouraging (smiles). But having said that, passion and love for work is the necessity between action and cut."
Very well said Sriti!