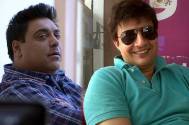 Balaji loyalists, Ashish Kaul and Ram Kapoor 'bond' on the sets of Dil Ki Baatein…
Actor Ashish Kaul is nowadays reminiscing his 'good old days' working with Balaji Telefilms, more so because he is now sharing screen space with his good old friend from Balaji days, Ram Kapoor.
Though Ram and Ashish have never worked together in a Balaji show before, they have been part of Ekta Kapoor's golden era years back. But now, Ram and Ashish will extend their off-screen camaraderie to the screens too, in their show on Sony TV, Dil Ki Baatein Dil Hi Jaane (Guruodev Bhalla and Dhaval Gada).
Says Ashish, "Well, when Ram was doing Kasamh Se, I was part of Kkusum, Kasautii Zindagi Kay and Kahaani Ghar Ghar Kii. And as part of the huge Balaji family, we have had some great interactions, and mingled well as friends. And now to be associated with Ram again, in Dil Ki Baatein…gives me immense pleasure."
Well, what's more? It is heard that Ram and Ashish have a jolly good time on the sets. They also talk about how TV used to be years back, and how the medium is in today's era.
Ask him about this, and Ashish tells us, "Yes, today you can see every actor complaining about how he /she has to shoot for long hours at a stretch. But frankly speaking, we actors have put in more than this before. Earlier, the techniques and facilities were less when compared to this era, but the output coming from actors were huge. So we keep discussing about all this, when we get free time. And to tell you more, this show Dil Ki Baatein… will recreate the magic of yester years in terms of the contributions coming from actors. All are exceptional performers, and viewers will certainly appreciate seeing the amount of detailing given to all kinds of emotions."
Way to go, Ashish!!