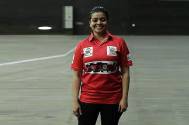 BCL will get much bigger this year on Colors – Nivedita Basu
The game of 'Cricket' is catching up with the 'biggies' in telly town!! And the entrepreneur and owner of the team Kolkata Babu Moshayes, Nivedita Basu got chatty with to share her insights about her team, her passion for the game and lots more…
Firstly, talking about the responsibilities she holds as the owner of the team, Nivedita said, "My basic responsibility is to raise funds for my team. I have a good set of actors in my team and I have to keep them happy. Our goal is to stay smiling, and win the championship."
On the goals set for the event this year, the lady with a smile averred, "My vision is to make my team popular. I want Kolkata Babu Moshayes to be passionate about the game. All the actors in my team are friends, and I don't want any bad air to flow in. Cricket is a game of eleven people and I have twenty five people in my team. So we should work together and make the team win, is what I will say."
Talking about BCL being aired on Colors, Nivedita quipped, "I am glad that BCL will be aired on Colors. I have known Manisha (who heads non-fiction) for years, and believe that the channel will do everything possible to make the show popular. I am very confident of the visibility increasing on Colors. The show will get much bigger on Colors.
On her love for the game of cricket, Nivedita shared, "Cricket has been an integral part of our house. Both my mom and dad were very fond of the game. In fact, my mother used to even follow the local league games. I was a sports captain in my school, but never played cricket professionally. You never know, the love for the game can make me play the game too now…
Going ahead, talking about her all-time favourite cricketers, the lady quoted, "Sachin Tendulkar is my favourite cricketer. He is a very cool guy, who had a humble beginning and gained enormous popularity through his achievements."
Nivedita who has the never-say-die attitude felt that her competitive nature should rub on to her team too.
The lady has been keeping busy, what with her newly formed production house (The House of Originals) coming up with a fiction show on & TV in the near future. On her multi-tasking ability, the lady exclaimed, "I have my show, BCL and my personal life too. I love to be active and hate to sleep (smiles). I believe in doing a lot of things in a short span of time."
Way to go, lady!!