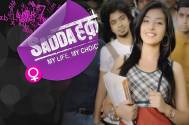 Channel V's Sadda Haq completes 400 episodes
The team of the most popular youth show on TV, Sadda Haq: My Life My Choice is on a great high!
The project has achieved a lot of success with it presenting the beautiful tale of Sanyukta Agarwal, who fights the world to fulfil her dreams of becoming an engineer.
Starring new comers Harshita Gaur and Param Singh, Sadda Haq touched viewers' heart instantly and today they have achieved a feat of completing 400 episodes.
Aired on Channel V, and produced by Beyond Dreams Productions, the series is a perfect blend of drama, romance, inspiration and friendship.
Talking about the achievement, Producer Yash Patnaik shared, "I think it is one of the few youth shows that has managed to connect with the masses and the classes. It has been our sincere try to bring something fresh and thankfully we have been appreciated for it well. The entire team is a fabulous one and I think I want to give gratitude to all of them who have contributed so much to this show. Also I have seen them all grow and flourish and that is a great achievement for me too."
The maker's other show Veera (Star Plus) also completed 750 episodes recently. Talking on the same he added, "I will soon complete 20 years in Mumbai. Starting as a stranger with no one I knew around, to this day, when two of my shows are doing well; it has been a fabulous journey. Our show is connected with so many families and the special attachment is the most wonderful feel. We will surely plan a party soon to thank everyone who has been part of our shows."