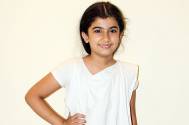 Find out Gangaa's new challenge in the show…
Loyal viewers of &TV's Gangaa (Sphereorigin) will see the little fighter (Ruhana Khanna) turning into a teacher for the society in the upcoming episode.
Well, this will be the next major highpoint in the show. As audiences will see her going through a very rough phase.
As per a reliable source, "Gangaa is a widow, so she will be forced to beg. She would be forced to live the lowlife and not allowed to live freely. However, Gangaa will refuse to do so. She would fight back and teach a lesson to the society. Gangaa will say why we should one beg, when they can work hard and earn it."
This simple question will be the toughest one to answer by widow women in the ashram.
Will Gangaa bring a change in the society? Will she manage to convince the other widows to work?
We tried calling Ruhana but she did not answer our calls.
Stay hooked to Tellychakkar.com for more updates.