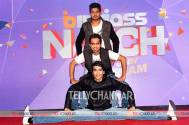 Get set for 'Bindass Naach' with Shantanu, Macedon and Nimit
TV show "bindass Naach", a Disney ABCD franchise, which will capture the journey of three young passionate youngsters – Shantanu Maheshwari, Macedon Dmello and Nimit Kotian – who decide to pursue their passion for dance, will be launched on August 16.
The bindass show, produced by BBC World Wide Ltd, will explore a never-seen-before concept with dance at its core and trace the lives of these three youngsters, who along with their dream team, go on to compete at an international level, read a statement.
It will narrate the tale of friendship, ambition, courage and inspiration as these young dancers get a chance to pursue their dancing dream.
Along the way, they learn to take responsibilities, make some important decisions, share some fun and light moments and eventually come together as a single unified dance crew and move a step closer to their lifelong dream.
Disney India is creating an experience with "ABCD- AnyBody Can Dance" for all Indian fans. With the "ABCD 2", sequel to the first successful instalment "ABCD…", the company is planning to extend the cinematic experience to the TV show; a dance-inspired game and branded merchandise.
"ABCD 2", starring Varun Dhawan and Shraddha Kapoor, will hit the screens next month.