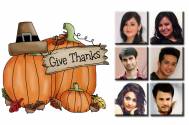 #HappyThanksgiving: TV actors 'thank' their special person
Today is Happy Thanksgiving Day!
It is a day when people thank that special person in their life for being there with them throughout.
We buzzed a few TV stars and asked who they would like to thank on this day.
Rachana Parulkar: Thank you to the almighty first of all for giving me a life. Thanks is a small word, but I would definitely want to show my gratitude towards my parents and my guru 'Uma Dogra' for teaching me, and for guiding me in very step that I take. Also to all the fans for encouraging me and letting me sustain so far in this industry.
Varun Kapoor: I want to thank my parents for loving and supporting me. Whatever I am today is all because of them. They are my backbone and I am glad to have them as my parents.
Aditi Sajwan: I'll take this opportunity to thank all my teachers who have given me an ocean of knowledge, thoughts and ideas. I remember most of my teachers; some encouraged me, some pushed me to do more while some criticized me and kept a check on my growth, and there were some who influenced me to think big and spread wings. I owe them a lot. They helped me to become a complete educated self-aware person.
Jay Soni: Firstly I would thank my mom for bringing me in this world. The second important person is my wife Pooja for being with me like a pillar. And the third most person is Sasural Genda Phool producer Ravi Ohja, for giving me the best career start.
Roopal Tyagi: I want to thank my best friend from Bangalore, Parinitha for always being by my side. She has always been my guiding light.
Fahad Ali: It is definitely my mom first who is a very important person in my life. I would also like to thank Vikas (Gupta) for being there as an elder brother and helping me take right decisions