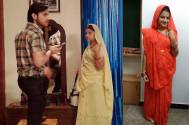 Hetal Gada and Anas Khan to feature in Savdhan India
Life OK's Savdhan India is definitely the masses' favourite. With the show projecting real social issues in a hard hitting way, viewers are hooked on to it.
In the coming episode, produced by Franklin Productions, a case of child marriage will be presented. The story will showcase a young girl who would lose her innocence and childhood when she will be married off to a man double her age.
With shows like Balika Vadhu and Gangaa already projecting the ill practice of child marriage, this episode will also highlight how one should fight this growing crime.
The leads in the episode will be played by the talented Anas Khan (Meri Aashiqui Tum Se Hi) and the bubbly cute Hetal Gada (Jamai Raja).
The particular episode will air on 14 July.
Both the actors confirmed their presence.