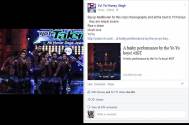 Honey Singh 'supports' his Yo Yo Boys in India's Got Talent
The participants in the ongoing talent realty show on Colors, India's Got Talent are on a high, with their performances being appreciated by big celebrities.
After our own 'Cricketing God', Sachin Tendulkar encouraged contestant Akash Bhagat's 'Mad Contemp' dance by tweeting about it, we now have the popular Bollywood sensation Honey Singh getting into the groove and backing his favourite team on India's Got Talent.
The team 'Yo Yo Boys', who are presently participating in the reality show, apparently work with Honey Singh. And the recent performance of the team really got Honey excited, and he left no stone unturned in cheering them up for bigger performances ahead.
Well, Honey took time off his busy schedule to repost the team's viral performance on his Facebook page, and applauded their choreography with the nicest words possible.
Our readers can have a glimpse at the tweet of Honey, to motivate the Yo Yo Boys.
Way to go, Honey and his favourite team…