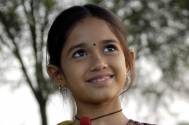 Jannat Zubair in Colors' Code Red Talash
The beautiful Jannat Zubair, who was last seen portraying the pretty princess in Maharana Pratap, will be back on TV, this time portraying a very different character in Colors' Code Red series of Talash.
Produced by Lost Boy Productions, the episode will have Jannat play Simran, a loving and beautiful child living with her parents happily. The girl would suddenly start behaving in an odd manner, much to the worry of the parents. They would take her to the best of doctors but all efforts to cure would prove futile.
Shares a source, "Simran would suddenly start thinking herself to be of an aged person and talk in a similar manner. Soon the family will get to know that it is a case of rebirth."
The episode is said to be quite a thrilling one with some amazing performances by the actors.
When we called Jannat she confirmed the news and added, "It was a very interesting episode and I really enjoyed playing the character which was different and challenging."
Playing Jannat's parents will be Swati Taldar and Kiran Janjani.
Talash is all set to launch from 20 April.