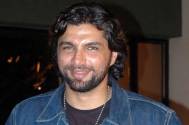 Just In: Chetan Hansraj, the new antagonist in Zee TV's Ek Tha Raja…
It's certainly raining surprises in the Zee TV show, Ek Tha Raja Ek Thi Rani produced by Sphere origins and Nilanjana Purkayasstha.
Well, we have already cracked the biggest story on the show, of the leads Siddhant Karnick and Drashti Dhami apparently being on their way out.
Now, we hear of a major entry, that of popular face Chetan Hansraj.
Well, the big man will be the new antagonist on the show, and will be seen as the new King of Amerkot.
A credible source tells us, "Tentatively titled as Kaal, Chetan's character will wreck havoc with his entry. The character will be introduced sometime this month, and will go on to play a vital part in the post leap story phase. The story ahead will focus on Ranaji and Gayatri's kids, and the kids of Kaal."
When contacted, Chetan confirmed the news saying, "Yes, I will be entering Ek Tha Raja Ek Thi Rani. But you will have to call me later for details."
We tried buzzing the channel spokesperson, and Producer Sunjoy Wadhwa for a confirmation, but they did not revert to our query.
Are you all geared up for the new developments on the show? Stay tuned!!