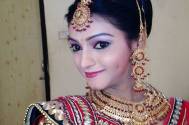 Jyotsna Chandola talks about her wedding preparations
Sasural Simar Ka famed actor Jyotsna Chandola, who is currently seen in Jodha Akbar, is all geared up to enter the wedlock with her beau Nitesh Singh on 21 April in Banaras.
The young bride-to-be, who is very busy these days due to her wedding preparations, is indeed having a tough time managing her work and marriage preparations.
The lovely lady shared, "I am not yet done with my shopping and I hardly have any time left as I need to complete all of these before Holi as per some traditional rituals. And for my wedding I have decided to pick some traditional attire, which will probably be yellow and red or maroon Banarasi saree."
Though the actress' marriage will be a small family affair, she is planning for a gala ceremony in Mumbai to celebrate her sangeet function, for which she will be seen in a Delhi based designer's Indo-western outfit.
And guess who all will attend the event.
Well, what we hear is that her close friends from Sasural Simar, Deepika Samson, Avika Gor, Jayati Bhatia and few others are all set to shake their legs in her sangeet, which will be on 14 April.
When we quizzed her about the same, she commented, "Yes Deepika and Avika are very much excited about my wedding. Deepika has already booked flight tickets for Benaras to be there with me on my wedding. Though Avika has promised to be there as well, I am not very sure whether she will be able to manage to take out time or not."
The chirpy lady also mentioned that though the couple has not yet finalized their honeymoon destination, they might take a trip to the islands of south eastern Asia.
Interestingly another popular television couple Vikas Manaktala and Gunjan Walia will also tying the knot on the same date.