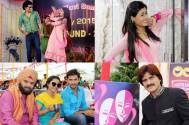 Kavi sammelan to add drama in Star Plus' Tu Mera Hero
With the entry of the kavis in Star Plus' Tu Mera Hero (Shashi Sumeet Productions Pvt Ltd), things have become more entertaining. And now with the competition among these fun poets rolling out, one can gear up for a rib tickling of a dramatic journey.
With the kavi sammelan in place, Titu (Priyanshu Jora) will be seen juggling between writing the winning poems for Gulgule (Gopi Bhalla) and keeping himself hidden from his family especially Mukund (Achherr Bhaardwaj).
Shares a source, "But to Titu's ill fortune, Mukund will find out about Titu's involvement in the competition, he will decide to play a trick and get him out of the race."
Mukund will plan to add a twist in the competition and bribe the authorities for the same.
He will get the competition to a level that will make Rajnigandha's (Chitrashi Rawat) strength rise further and thus give direct competition to Titu.
Will Titu manage to win the contest or Mukund's plan work against him?
We tried reaching Priyanshu but he was busy shooting.