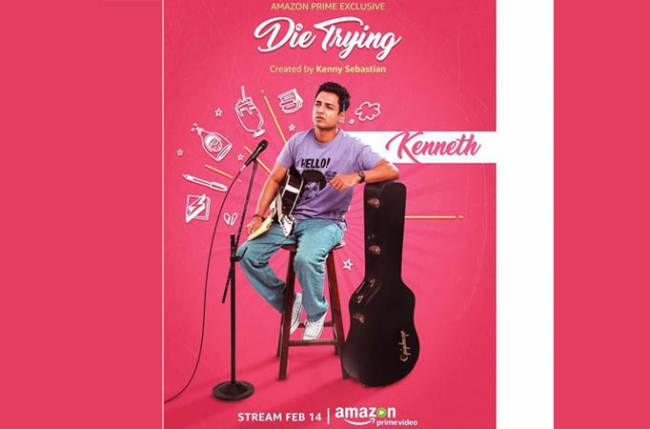 Kenny Sebastian says no to more acting gigs

Mumbai: Comedian Kenny Sebastian says acting in web series "Die Trying" was a huge learning experience, but he might not take up more acting gigs.
"It was a huge learning experience to be an actor on this show. I went through acting classes to make sure I delivered as an actor on set. I might not take up more acting gigs unless the parts are too amazing to reject. My dream is to continue writing and creating shows," Kenny said.
Kenny not only stars in the Amazon Prime Video's original web series, but has also co-created the show. It narrates story of two musicians trying to make their dreams come true in Bengaluru. It also highlights their personal life and hiccups they face while making their dreams come true.
What was the thought behind creating "Die Trying"?
"In college, I started a band with my college classmate. We saved up money and recorded an album as well. We met with constant rejection for a good three years. After music ended, I incidentally got into stand-up," he added.
"It was quite amazing how one career ended and the other started. I knew that writing about this as a show would be interesting because I could use my experiences of being a comic and a musician into this."
Kenny gained popularity by posting videos on issues a middle-class family goes through on YouTube. He is also known for parodies and covering popular songs.
With "Die Trying", he picked a subject close to his heart.
"'Die Trying' is mainly about two young idealists who are too stuck in their bubble to take feedback but are blindly driven to reach their end goal. The take away from the show is that, there are multiple ways to reach success and not the supreme 'Rockstar or nothing' attitude that most young people have," he said.
On being asked, what's his dream, he replied, "I think from the moment I realized that people are coming to my stand-up shows to listen to me, my dream came true then. It is a huge privilege to have your own show, not only get to write it, but to also act in and be the show-runner."
"I got to be involved in every aspect of the show, from the beginning to the end. Collaborating with musicians and creating original music too, it's incredible," he said.
At the moment, he is working on two upcoming "incredible projects from Amazon. I am doing improvisers with Kanan Gill, Abish Mathew and Kaneez Surka."
"Also going to be returning to live sketch comedy with 'Sketchy Behavior' alongside Kanan at the end of the year," he concluded.