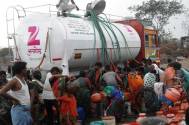 'Khushi Ki Boondein' for 240 villages in drought-hit Maharashtra!
The leading FTA Hindi channel in India, Zee Anmol, will provide some relief to 240 of the most severely affected villages in Maharashtra with its initiative 'Khushi Ki Boondein'. Launched last year, the second installment of this initiative has numerous 'Zee Anmol Khushi Ki Boondein' tankers distributing water to various districts including Osmanabad, Latur, Nanded, Jalna, Jalgaon, Beed, Dhule, Amrawati and Wardha and aims to provide relief to people in Maharashtra who are facing its worst drought in 100 years.
Talking about this initiative, Priyanka Datta, Cluster Head – (ZEE Anmol & Zindagi) said, "Since the launch, Zee Anmol India's No 1 Free-To-Air General Entertainment Channel (FTA GEC), has undertaken many initiatives for the upliftment of women in rural India that stay true to its positioning 'Dil Choo Jaye', be it by education on financial inclusion through the initiative, Bachat Gat or honoring housewives through its first original production Grihani No.1 or creating resting zones & changing rooms at various pilgrimages and Melas. With the Khushi Ki Boondein initiative, our attempt is to make a difference to as many lives in Maharashtra and provide aid to the worst affected by the severe water crisis."
'Zee Anmol' stands for the most invaluable things in life – love, family, memories! It showcases the best shows on Indian television and has emerged as the No 1 FTA channel (Source: BARC) on television. Available across major MSO's, cable operators and key DTH platforms, 'Zee Anmol' showcases some of the most unforgettable shows from ZEE's repository. The current programming line-up of 'Zee Anmol' includes shows like Jodha Akbar, Bandini, Ghar Ki Lakshmi Betiyaan & Baba Aiso Var Dhoondo.