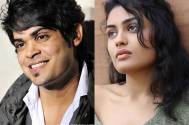 Kunwar Amar and Sheetal Singh in Pyaar Tune Kya Kiya
Zing's Pyaar Tune Kya Kiya (Lost Boy Productions) will present a unique love story in their upcoming episode.
The story will have the charmer Kunwar Amar of Dil Dostii Dance and Sheetal Singh of Paanch as the lead.
As per the plot, a superstar Vikram (Kunwar) will fall in love with an ordinary girl Radhika (Sheetal). And how that will create issues in their life will be for viewers to see.
To know more about the plot, we got in touch with Sheetal who shared, "I play the character of Radhika who is a simple girl and artist by profession. She respects relationship and her parents a lot. She finds pleasure in small gestures and enjoys the nature beauty. This character is in contrast of all the roles I have played till now."
We also called Kunwar but he asked us to call later.