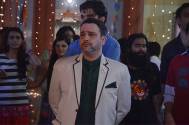 Mihir Mishra to turn negative for TV show
Actor Mihir Mishra, who will be seen in a negative role in "Jaane Kya Hoga Rama Re", is looking forward to don a never before seen avatar for the forthcoming show.
The actor, who rose to fame with his role as a doctor in popular TV show "Sanjivani", will join the cast of the Life OK show, which also features Supriya Pathak and Vinti Idnani, as a builder with shades of grey.
"People are going to notice the change in my character and looks in the show. I have never looked the way I do in the show before," Mihir said in a statement.
The forthcoming show will narrate the story of two characters — Nandu and Raju, and focus on their life in a dysfunctional neighbourhood.
Mihir was attracted towards the show because of the different concept.
"The show is very different as it is not the story of a couple or the story of two families. It is a story of a 'mohalla' called the Model Town which is in Noida and it is built by my character. Hence the story brings together different people from diverse walks of life and how they interact and behave with one another," the actor said.
"Jaane Kya Hoga Rama Re" will go on air on November 16.