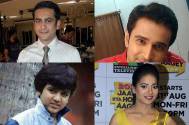 Nayan Shukla to play the lead in Optimystix' next for Disney; Paresh, Devesh, Monica roped in
Tellychakkar.com has already reported exclusively about Optimystix Entertainment's upcoming venture on Disney, the kids' channel.
We have mentioned about Bhamini Oza Gandhi and Sameer Shah playing vital roles.
We now bring you another exclusive piece of news on the concept of the show and its lead cast….
The show will be about an alien by name Puchka, who would get a punishment of living in another planet, and accumulating a lot of 'Thank you' from people out there, which will bring him back to the alien world.
Owing to Puchka's fascination for music, the alien kid will land on Planet Earth, and will find himself in a chawl wherein people of various religions reside. Reduced to being the common servant of the people living in the chawl, Puchka will go on to solve the problems of the people.
Playing the title role of Puchka will be Nayan Shukla who was last seen in Optimystix' 2025 – Jaane Kya Hoga Aage.
Actor Paresh Bhatt who was again part of 2025 – Jaane Kya Hoga Aage has also been roped in to play a member of the chawl. Actress Monica Castelino and Veera fame Devesh Ahuja will also be part of the show.
When contacted, Nayan confirmed that he is playing the lead role in the show. However, he refused to talk further.
When contacted, Paresh Bhatt told us, "Yes, I am excited to be part of Optimystix show again."
Devesh's mother too confirmed her son's presence.
As per reliable sources, "Paresh and Monica will play a Rajasthani couple living in the chawl, while Devesh Ahuja will play a very lazy Bengali boy in the chawl."
We buzzed Producer Vipul Shah, but did not get any revert from him.
We hear that the cast has shot the pilot of the show, and are awaiting the channel's approval. If all goes well, the team will start shoot in mid-November, with the launch happening in December this year.