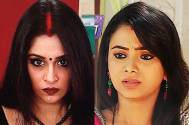 OMG: Simar to KILL Devika in Colors' Sasural Simar Ka?
It's always drama at its peak in Colors' long-running show Sasural Simar Ka (Rashmi Sharma Productions). And with Simar (Dipika Kakar) yet again trapped under the influence of Patali (Meghna Naidu), hell will break loose over Devika (Deblina Chaterjee) in the show…
Yes, in the coming episodes, the most unexpected twist will happen, with Simar killing Devika…
OMG!! Shocked, is it?
Here we get you the details…
As per a reliable source, "Patali who has a strong hold on Simar, will instruct Simar to kill Devika. Meanwhile, Devika who would be chained will escape and hide inside a pond. With a fierce Simar trying to locate her, viewers will be in for some tense moments. Ultimately the worst will happen, with Simar locating Devika."
Obeying Patali's words, Simar will strangulate Devika so hard that she will collapse to the ground.
On the other hand, Amar (Alan Kapoor) and Jhanvi (Falaq Naaz) will try to get Matarani's sindoor and put it over Simar's murthi which has turned yellow due to Patali's influence on her.
If sources are to be believed, Patali will be seen rejoicing with Simar killing Devika.
Will Matarani's powers be able to get Devika back to life?
We tried calling Deblina, but did not reach to her.
Watch this space for more updates…