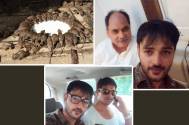 On the set fun of Ek Tha Raja: Ajay, Pawan, and Ali's 'temple visit'
The cast and crew of Zee TV's upcoming show, Ek Tha Raja Ek Thi Rani (Sphere Origins) recently shot for their first outdoor schedule in Bikaner, Rajasthan.
And the cast we hear, made use of every possible free time by visiting important landmark places in and around Bikaner. One such visit was to the very famous Karni Mata Temple which is situated nearly 30 Km from Bikaner.
Actors Ajay Arya, Pawan Mahendru and Ali Mughal took up this visit soon after their pack-up on a particular day.
We hear that the trio had the most memorable time during this outing, and felt really happy and contented after seeking the Mata's blessings.
A source associated with the show told us, "This temple visit was very special, especially because there is a unique custom that is followed by the devotees here. The temple is famous for the huge existence of rats in the vicinity. In fact, the rats are so very welcome at the place, that the Prasad made for the devotees visiting the temple are fed to the rats first, before it is distributed to the janta."
Here are the pictures of actors enjoying their temple darshan. Also, seen is the huge tally of rats gulping on to milk served for them.
We tried contacting the actors, but did not get through to them.
As we know, in Ek Tha Raja Ek Thi Rani, Ajay Arya plays the role of Akshay Anand's son, while Pawan Mahendru will play the strong and powerful role of the Deewan. Ali Mughal will play the role of the security head.
That was indeed a nice outing!!