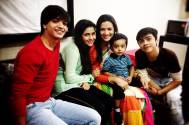 Pallavi Kulkarni's reel kids bond with her real son
TV actress Pallavi Kulkarni, who plays Ragini Patel in "Itna Karo Na Mujhe Pyar", says her reel children bond well with her two-year-old son Kayaan.
The actress is currently seen playing the role of a strict mother of five children in the Sony Entertainment Television show. With hectic and long shoot schedules, Pallavi gets to spend very little time with her son, hence Kayaan is often seen visiting his mother on the sets.
Kayaan's time on the sets has made the entire unit fond of the toddler, and Pallavi's onscreen children Aagam (Rohan Shah), Aarav (Yatin Mehra) and Suhan (Palak Jain) are seen spending their free time with the baby.
"Due to my shoot, I don't get much time to spend with Kayaan at home. So, many times he comes to visit me on the set. Our entire cast is like one big family, whenever Kayaan comes on set everyone loves playing with him. My reel kids are very attached to him and spend all their free time playing and clicking pictures with him," Pallavi said in a statement.
(Source: IANS)