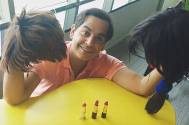 People have faith in my versatility: Gaurav Gera
He has hosted live and TV shows, been a standup comedian, a radio jockey, featured in a live theatrical and has entertained small screen viewers with fiction shows — Gaurav Gera says he loves to wear different hats and enjoys the fact that people trust his versatility in his craft.
"It's not money that I work for. I believe in being happy about my work. For three and a half years, I was in Jhumroo, a live play at Gurgaon's Kingdom of Dreams. Before that I was a radio jockey.
"I have been getting a variety of work somehow…Probably, people do have faith in me that I can be versatile, because I get offers for anchoring as well. There's acting, ads and fiction shows," Gaurav told IANS.
Of late, he has been adding to his popularity with digital gags, involving characters like Shopkeepah, Chhutki and Suyash via YouTube and photo-sharing site Instagram. These gags are being aired on Big Magic and 92.7 BIG FM, and are run between the shows the entire day in both English and Hindi.
These videos for TV and radio will last between 30 seconds to one minute.
Gaurav, who became a known face after having played the role of Nandu in "Jassi Jaisi Koi Nahin", said: "For internet, the video should be short enough to read as a joke, like the jokes on Whatsapp. You need something quick, because the viewer is losing out on data consumption.
"But on the other hand, there are some stories which I am unable to make because of shortage of the 15-second limit. Thus using the platforms (radio and TV) I am being given now, I can make longer videos."