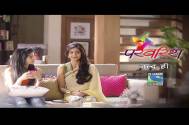 #PromoReview: Sony TV's Parvarrish Season 2 is relatable, and how!
All those familiar with Parvarrish's first season would know the basic premise of the series. It revolves around two families who do their best to give their kids the best parvarish (upbringing) amid the various ups and downs of life.
Taking that plot forward is the second instalment of Sony TV's Parvarrish season 2, which has a fresh cast and an even interesting take on the kids-parents equilibrium.  The promo opens with Gautami Kapoor, who plays an overprotective mom whose only concern is her daughter's well-being (just like our mommies, no?) Her husband, played by Vinay Jain, is a complete contrast who lets his daughter have fun and figure life out on her own (again, reminds of our daddy cool, eh?)
This typical setting is a throwback to our parents and an ode to their struggles. If the scene doesn't take you on a nostalgic trip, you've been living your childhood wrong. The beautiful balance of a protective mum and a laid-back dad, who battle it out in the best interest of their daughter makes this promo a relatable one.
The daughter, a rebellious teen who loves her phone more than her eavesdropping mom, could be anybody of us! Gautami is a natural, while Vinay plays the cool dad to the T…and we can't wait to watch the series unfold with all its bitter and sweet moments.
What we really loved about the promo was the bit when Gautami tried to peek into her laadli beti's phone, but quickly withdrew herself when her daughter gave her the eyes. Ha! So natural, effortless and typical. Without any dialogues, the mother-daughter duo tell us everything there's to know about their special bond. Parents will always watch our backs, no matter what.