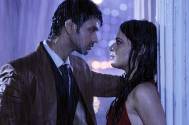 Ranveer-Ishaani's romance in 'rain' in Meri Aashiqui Tum Se Hi
Loyal viewers of Colors' popular show, Meri Aashiqui Tum Se Hi (Balaji Telefilms) always long to see the close Ranveer-Ishaani moments… And at a phase when the thorns of separation seem to be hurting the loved couple, tonight's episode will come as a breath of fresh air!!
Yes, we say so, as the audience will be entertained by a close romantic rain sequence which will draw Ranveer (Shakti Arora) and Ishaani (Radhika Madan) closer.
The scene will be set for dance performances during the sangeet ceremony, wherein Ishaani will pull herself out of one such performance and will run towards the terrace. Ranveer will follow her, and amidst a huge downpour of rain, the two of them will get involved in a dance sequence.
As per our reliable source, "Ranveer and Ishaani will be seen swaying away to the number 'Lahoo Mooh Lag Gaya' from the movie Ramleela. However, their romantic moment will face the harsh reality of life, when Shikhar (Arjun Bijlani) will come to the terrace and will get angry on seeing the romantic sight. He will soon get over-protective of Ishaani and will take her away from Ranveer."
We tried contacting Radhika to get more details from her, but we could not get her on line.
Are you excited to watch this 'rain romance'? Don't forget to tune into the episode tonight.