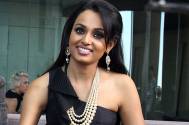 Reshmi Ghosh to play the 'most evil' Pari in SAB TV's Baal Veer
Loyal viewers of SAB TV's very popular show Baal Veer are surely in for a treat!!!
Well, did you ever think that the Bhayankar Pari, essayed by Shweta Kawatra is the wickedest and most evil of them all?
Well, then you now need to think twice, as there will soon be the entry of a new Pari, who will be the toughest of them all, and will have the most venomous evil powers!!
Yes, and entering this popular Optimystix Productions show will be seasoned and talented actress Reshmi Ghosh.
For Reshmi, it is certainly raining 'fantasy'characters. And this will be the third such role she will take up, after playing Goolika in Savitri and Vishkanya in Maharakshak Aaryan. 
A reliable source states, "Reshmi is still to sign on the dotted lines, but has been verbally communicated of her finalization. She is expected to start shoot from the first week of April."
When contacted, Reshmi said, "It is true that I have been offered a role in Baal Veer. If things fall into place, I will be playing yet another fantastic character after Savitri and Aaryan. I must say, I simply love these characters."
We tried calling Producer Vipul Shah for a confirmation, but he remained out of reach.
Watch this space for more exclusive updates.