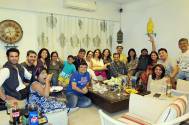 Reunion time for 'Baa Bahoo Aur Baby' gang
Actors need no reason to party and especially when they get to meet after a long time. It is the time when they all cherish their memories.
Superbly famous Star Plus' show Baa Bahoo Aur Baby had a reunion and almost everyone from the cast namely Lubna Salim, Paresh Ganatra, Nimisha Vakharia, JD Majethia, Sonali Sachdev, Rajesh Kumar, Suchita Trivedi, Sweta Keswani, Benaf Dadachandji, Gautam Rode, Amit Varma, Vaishali Thakkar and Aatish Kapadia were present.
Even after five years since it went off air, viewers still remember the funny gags and talented actors from the show.
The reunion happened as Sweta Keswani who is settled in US came to India for some work. She decided to meet them individually but all of them requested for a reunion so that they can cherish those old memories and have fun together. The reunion happened on 16 February at writer cum producer of the show Aatish Kapadia.
We spoke to Paresh about the reunion who excitedly shared, "Yes we all met after a very long time and it was a great fun. We had a morning shoot next day but still we partied till the wee hours and had a gala time. It is not often that co- actors keep in touch after their show goes off air in these busy times."
Producer cum actor JD averred, "The show was popular not only because of the track but also due to the wonderful personal equations. Since everyone was busy with their shooting schedules it was really difficult to get them all together but somehow we managed it."
"I still remember when they had a single huge make-up room where all had to get ready together. Having  a great bond between the actors, they never had any fights or tiffs The USP and popularity of the show was the talented cast and crew behind the show," shared JD further.
Well, indeed the actors must have spent a gala time together!