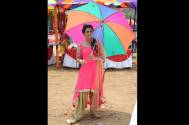 Sargun's fancy umbrella beats the heat at Zee TV's Rishton Ka Mela
Shooting round-the-clock is a part and parcel of most daily soap actor's lives, as they strive to meet their deadlines to deliver episodes in time … add to that the fact that they must brave the grueling heat at an outdoor schedule and you can see each actor devising their own unique ways of handling the temperature!
Sargun Mehta who has won viewers' hearts with Zee TV's 12/24 Karol Bagh, now will be seen as a runaway bride in its latest offering-Zee Rishton Ka Mela, a first-of-its-kind two week drama set against the backdrop of a Mela. Considering the show is about a Mela, most of it is being shot in the outdoors. So, the pretty actress found a smarter way to beat the heat and save her skin from tanning than to constantly rush to her vanity van – Sargun borrowed a large, fancy, multi-colored Rajasthani umbrella that was a part of the Mela stalls and survived the rising mercury with sips of some refreshing nimbu paani!
In fact, the crew members were surprised when they saw Sargun toting the umbrella on her own rather than asking for a spot boy to carry it for her…Not only did it help her stay cool, but it made for a very pretty picture and the actor was seen in a good mood, clicking selfies with it between takes. Inspired by her, most of the female crew members followed suit and were seen posing for selfies with the fashionable umbrella.
Returning to the fiction space after a gap of one year, Sargun shares, "I haven't attempted a finite two-week fiction series like this before. Besides the show brings back some of Zee's most iconic faces under one roof.  These were the key factors that led me to taking on Zee Rishton Ka Mela. It's a love story against the backdrop of a festive mela. So, there's a lovely carnival feel to the entire show. The set that brings alive the mela is quite elaborate & real and for a moment, one forgets that he is actually standing on a set and not an actual mela!"
She adds about her role "My character Deepika is a runaway bride … How she comes in touch with some strong women and joins forces with them to fight evil forces and save the traditional Mela forms the crux of the story. How Deepika's own love story , in the process, reaches an interesting culmination is what the viewers will look forward to. Shooting with veteran actors like Usha Nadkarni and Anupam Shyam has been an enriching experience. I started my acting journey from Zee TV and am glad to return to the channel with this show."
Rishton Ka Mela follows the journey of the protagonist Deepika (played by Sargun Mehta), who is a runaway bride, escaping from her tyrant police inspector husband. She runs into a Mela where she meets an ensemble of interesting women, each with a story of her own. The show sees Deepika as a part of their stories and how they contribute to her journey. Along with the current hot favorites, Zee Rishton ka Mela will have the most iconic Zee TV faces like Usha Nadkarni, Ratan Rajput, Anupan Shyam, Karan Mehra, Hiten Tejwani, Gauri Pradhan, Shayantani Ghosh, Karan Grover and many more prominent faces all coming together in an entertainment extravaganza.
Get ready to experience a carnival of emotions like never before on this two week series Zee Rishton Ka Mela from 27th April at 7pm only on Zee TV.