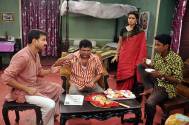 Secret love' blossoms on Aakash Aath's Ek Masher Golpo-Basanta Bilap
You must be eagerly waiting for the update of Aakash Aath's 'Ek Masher Golpo-Basanta Bilap'.
Your wait is over, as we bring here the latest update of the serial.
In the upcoming episode, along with the battle, something interesting will take place!
Guess what?
Well, the blossoming of secret love…
As per the storyline, the battle will continue and the whole locality, including Lalu's brother, will be distressed with it.
On the one hand, amidst all this commotion, love will start showing its sparkle between Alo (Sahamita Acharya) and Sidhu (Raju Majumde); Nabanita (Piyali Basu) and Lalu, and Parbati (Rimlee Sanyal) and Duttagupta (Sumit Samaddar) while on the other hand, the leaders of both the groups, Shyam (Sougata Sarkar) and Radha (Geetashri Roy), will be unaware of this twist.
The secretive love between the boys and girls will continue along with the fight but the leaders will not be falling in love with each other!!!
Like any other love story, will the hero and heroine get attracted to each other? What will happen to the love that is blossoming between the other members of the groups? Will they be able to declare their love in public?