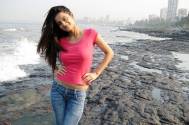 Shalini Sahuta to play lead in 'Total Nadaniyaan'
Actress Shalini Sahuta has bagged a chance to play lead character Jassi in TV show "Total Nadaniyaan" – new season of popular comedy caper "Uff! Yeh Nadaniyaan".
Shalini will be seen as a foreign returned girl named Jassi who gets married to Pappu, played by Gaurav Sharma, read a statement.
This is for the first time that Shalini will not only be seen in a full-fledged comedy show, but she will also be sharing comic space with talented actress Upasana Singh.
Set in the backdrop of Punjab, the show revolves around a righteous mother Tarawanti, her younger son Pappu who is a wannabe actor and teleshopping entrepreneur married to Canada returned Jassi.
The show also introduces Jassi's twin brother with the same name always at loggerheads with Pappu.
Big Magic's "Total Nadaniyaan" will launch on April 27.