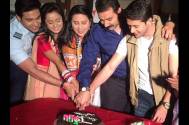 Shastri Sisters completes 200 episodes
Congratulations to team Shastri Sisters as the daily successfully completed 200 episodes yesterday (10 March).
Starring Ishita Ganguly, Sonal Vengurlekar, Sumit Bhardwaj, Vijayendra Kumeria, Neha Pendekar and many others, the show is based on the life of four sisters.
Produced by Shakuntalam Telefilms the show has remained a hit among audience from the beginning.
On completion of this achievement, a cake cutting ceremony was organized on the sets and when we spoke to Ishita aka Anu about the same, she shared, "Definitely it feels good that I am a part of this serial from the very beginning. We had a cake cutting ceremony yesterday and moreover, such occasions always relax the environment, which is otherwise very hectic due to tight shooting schedule".
We also contacted Neha Pednekar aka Alka and she said, "Though I was not present during the cake cutting ceremony but definitely it's a pleasure for me to be a part of this daily from its inception".
We wish the entire team our heartiest congratulations and keep up the good work.