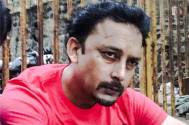 Siraj Mustafa to appear in Savdhan India Maha Movie
The good looking and talented Siraj Mustafa who has created a niche for himself in the small and big screen will soon be seen in a special Maha Movie for Savdhan India.
The two day long episode will present the tale of the trend of Circus dying in ou country. The movie produced and directed by Nirupam Sonu under Idea Hub banner will see Siraj play a ringmaster who would be frustrated by illegal practices taken up by the circus owner to fend for his employees.
Shares Siraj, "It is a very interesting story wherein we have tried to show how animals are mistreated as with nobody coming for the shows, their teeth and nails are sold off to get easy money. Also the character that I am playing of a ring master will be seen frustrated with no work and indulge in some illicit jobs."
The role of the Circus owner will be played by Harsh Khurana. The movie will air on 19 and 20 July.
Siraj will also be seen in another episode of Savdhan India by Keylight productions. The murder mystery will see a thrilling tale of a man indulging in an extra marital affair with his boss' wife and how things thicken up with a death.
Talking on the same, he added, "It is a very interesting story and very unpredictable. Viewers will stay hooked to the story completely."
Good luck Siraj!!!