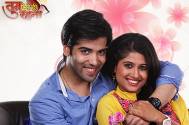 Sony TV's Tum Aise Hi Rehna wraps up shoot
The concept of Tum Aise Hi Rehna, capturing a couple's life after marriage in today's time, was surely loved by fans all across. The show by Rashmi Sharma Productions on Sony Entertainment Television will go off air on 10 April. And today was the last day of shoot for the team.
Popular and good looking Kinshuk Mahajan and Shefali Sharma played the leads and made all possible efforts to love and support each other after marriage. Even when it sometimes meant going against their respective families.
Today (31 March), the team is wrapping up their shoot and planning to celebrate the occasion.
We spoke to Kinshuk who shared, "It was a great experience shooting with the team and as actors I think we get used to this 'going off' affair. As they say every end is a new beginning, so am gearing for a good start again. Since I got done with my shoot yesterday, we had a blast enjoying ourselves on the sets. The team was like a family and I will definitely miss them."
The talented actress Indira Krishnan who played Kinshuk's mom added, "Now that times are changing, it's really a mystery what kind of shows work on TV today. Though our show was loved by many, the sudden decision to pull the plug was a shocking one. But I must mention after long I enjoyed being part of such a warm and friendly team. The unity that we maintained throughout was tremendous and I am going to miss everyone on the show."
We tried reaching Shefali and producer Rashmi Sharma, but they remained unavailable.
Tellychakkar.com wishes the team great luck ahead!!
Will you miss Tum Aise Hi Rehna? Share your views in the comment box below.