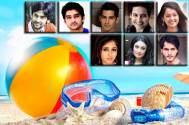 SummerSpecial: TV Celebs Recall Their Favourite Summer Holiday Memories
It's a throwback to our childhood when we used to eagerly wait for our summer holidays. From visiting our grandparents, downing glasses after glasses of mango shake, lazily rolling in the sun to binging on ice cream, those were some of the best times of our lives.
We asked our favourite celebs to recall their most treasured memories of their summer holidays…read on:
Ragini Khanna: I still remember how  I had gone to Dubai in the summer. Of course, I was fried in the heat! I was stuck, but thankfully, you can find AC everywhere in Dubai. So I was saved.
Ravi Bhatia: I am from Himanchal and as a kid, I used to go to the local lakes and water parks to enjoy the summers.
Digangana Suryavanshi: During the summer break, we used to go to Jammu and Kashmir on a regular basis. We would also visit Vaishno Devi.
Mohit Malhotra: Last year, I went to Tomorrow land. It was the best carnival ever and I was lucky to have gone on its 10th anniversary. I had a blast.
Vivan Bhatena: I can't forget my Maldives memory. I was swimming when I got stuck among three sharks!  But I had fun as I was in another world altogether. I had a great time with my wife and family.
Sana Sheikh: I can't recall my summer memories as I guess I have never been on any vacation. But yes, I want to explore Himanchal Pradesh. I want to visit Rishikesh and Shimla also.
Aditya Redij: I can't forget my school time. When I was in class 9th, I went for a cricket camp. It was really good and even got a chance to play for the district level.
Shashank Vyas: I still remember those May-June vacations. When I used to visit my Nani's (grandma) place in Chattisgarh with my mom. I would run in the farm and fields, drive my bicycle, steal mangoes, and generally laze around!
Woah! Have you too gone down your memory lane? Well share your best memories here in the comment box below!