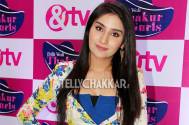 Sushmita Sen is my role model: Monica Sharma
&TV's newly launched show Dilli Wali Thakur Gurls (Cinevistaas) is creating a lot of buzz among the masses.
We got in touch with the pretty Monica Sharma, who is portraying the role of Chandralekha Thakur aka Chandi in the serial.
"I belong to an army family in Delhi and it has been only 3 to 4 months in Mumbai. I was totally into modeling. People don't know it,  but I was Miss Grand India 2014. I also did a movie Tere Aane Se with Hiten Tejwani. I believe whatever comes your way, you should take it up. This is my debut in the television industry and I feel lucky to work with Cinevistaas as it is a good production house and they all are very humble and caring people."
Taking about her character she shared, "Chandralekha is a typical Dilli ki kudi – rough, tough, won't shy away from abusing a guy if he tries to act smart, yet she can be all soppy and break down at the drop of a hat. She loves advice from Anjini (elder sister played by Sara Khan) and wants a life like hers. Having finished fashion designing from a reputed institute, she works as an assistant designer for a famous fashion designer. She is crazy for clothes, bags and jewellery."
This was about your character, and how are you in real life?  "I am a very happy go lucky and bindaas person. Chandi and Monica are very similar but the only difference is I am not a short tempered person (laughs). I like chilling with friends and I am also ambitious like Chandi," she said.
Your name is a bit old fashioned, while your character is bold so what do you have to say about it? "Even I don't like my name but I can't question my parents about this so they all call me Chandi and I think it is a cool name."
On being asked about her role model, she answered with a big smile, "It's Sushmita Sen as I like the way she lives her life carefree, which inspires me the most."
All the best, Monica!