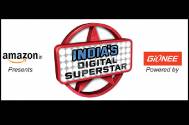 Talent hunt show 'India's Digital Superstars' kicks off with more than 1,400 videos
FremantleMedia, best known for producing international brands like Indian Idol and India's Got Talent partnered with ZengaTV and OneDigital Entertainment to announce the launch of the first episode of 'India's Digital Superstars', the biggest digital talent hunt in the world (www.Indiasdigitalsuperstar.com;www.youtube.com/c/IndiasDigitalSuperstar; www.zengatv.com/Indiasdigitalsuperstar).
The cumulative views and likes that 'India's Digital Superstars' has received is already a million in less than a month. This is first of its kind digital talent hunt, where the audience will be judging the next big digital star across a span of 14 weeks. The talent hunt has mentors like Sunny Leone, Anu Malik, Vishal Dadlani, Salim Merchant, Jazzy B, Andy, Raftaar and Anubhav Sinha on board.
The show has already received 1,400+ entries within the month and continues to invite entries across all demographics and talent genres. The winner will be given a contract worth Rs 20 lakh from FremantleMedia and One Digital.
The show is presented by Amazon.in, powered by Gionee, in association with radio partner Red FM. The auditions are open to all Indians across the world. Auditions will span 13 weeks and the competition never stops. The Indiasdigitalsuperstar.com platform encourages participants to upload multiple videos of their talent, and will be judged by the audience through the number of views and likes across YouTube, Zenga TV and Facebook. This is a power packed digital show with non-stop auditions, non-stop opportunity, 24/7 content and non-stop fun.