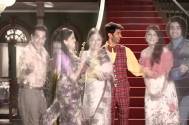 Time to bid farewell to Life OK's Zindagi Abhi Baaki Hai Mere Ghost
Life OK's horror comedy daily Zindagi Abhi Baaki Hai Mere Ghost (Ravi Ojha Productions), which started with lots of buzz, is all set to wrap up tomorrow (31 January).
The series, though could not grab much eyeballs, started with a fresh concept of an orphan boy finding shelter in a haunted palace and befriending a ghost family. The show then shifted its focus to the protagonist's love story and how he aided the ghosts to seek revenge from their murderer. However, the venture is now set to shut shop owing to its unimpressive ratings.
Before bidding adieu to the project, we called Smita Bansal, who is an integral part of the series. She kept her message short and sweet, "I am yet to shoot for the final episode. The journey so far has been amazing".
On the other hand, when we buzzed veteran actor Anita Kanwal, the lady sounded a bit melancholic and shared, "Though my journey throughout ZABHMG has been wonderful, but I would have wanted it to last longer. To be honest, I am bit disappointed with the ratings, as it shows that there is hardly any chance of experimentation in Indian fiction space. Even if we try to serve something new to our audience, they are not ready to accept it".
"Having said that, I would like to add that few things went wrong from our side as well. The looks which the ghost family portrayed didn't have anything unique, for which we lost the novelty. Moreover, too many changes introduced in the pattern and genre of the show didn't work in favour of us. However, every good thing comes to an end, same happened with this show" added Anita.
We wish the entire team all the best for their future endeavours.