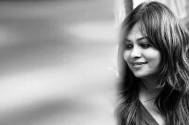 Today's shows lack soul: Meghna Prem
As soon as you glance at her beautiful face, you realise it has lots to tell. Meet Meghna Prem, one of the unsung heroes of the TV industry.
Meeting her was one of the most enriching experiences as this woman has a noteworthy story to tell. With a career story so interesting, it is only natural for Meghna to be a riot too. Unfortunately, the world still has no clue about this talented multi-professional. Well, all that's about to change…
Excerpts from a conversation over coffee…
Tell us your journey in the industry
After my graduation, I joined an advertising firm in Delhi and worked really hard. I was one of their celebrated employees and soon found myself in Mumbai, setting up their new branch. I was handling some of the biggest brands with them. It was a fruitful career opportunity, but I realised that I was missing on life. When I decided to take a break, an avid TV and film-watcher in me decided to try my luck in the entertainment field. I soon found myself at film shoots assisting directors. Some of the biggest achievements in my career span have been Lage Raho Munnai Bhai, My Wife's Murder and Tere Naam.
And then TV happened?
I loved watching TV and I thought why not experience this booming industry. Like a fresher, I used to drop my CVs at production houses, when I got a call from Balaji Telefilms in 2005. I spent a good amount of time there and learnt a lot when a big opportunity came knocking. I was appointed the Group Head, Programming for Sahara One. The channel was churning out some of the best shows and I launched numerous series for it, working on those from the scratch. I have spent eight years with Sahara One, and it holds a really special place in my heart.
You then set up Udann?
It was one of the best experiences of my life. I worked on every department with Udann. Coming from a film background, it was also an advantage as I could connect better with the producers (Guroudev Bhalla and Dhaval Gada), who also come from the same background.  There was a time when we were in the crunch and I called up everybody I knew for the auditions. I have literally given my blood, sweat and sleep to get its characters the right faces. You won't believe that it was the first time that a channel approved the looks of the characters in the first meeting. My designer and I were in for a complete surprise, but I believe that hard work always pays off.
You also worked on Balika Vadhu during the leap track?
Yes, I was called to take charge when the show was planning to get back on the drama track. It was really a tough decision for us to plan the death of the lead actor (Sidharth Shukla), but thankfully, it worked. Balika Vadhu focussed on the story about a child bride. And our prime objective was to get the flavour back. We worked really hard to plan out the revamp and today it's bearing its fruit.
Do you feel sad that your brainchild always gets credited while you don't?
I am not someone who craves for credits. To be honest, I cannot handle compliments as it makes me really uncomfortable. I have always stayed away from media, but I feel it is time people realised my talent and capabilities.
Today, the youth is entering the industry without realising the hard work that goes into it. What is your take on it?
That is a really great question. I feel today the youth is more interested in the glam quotient than getting substantial work. Every day the news of young people committing suicide is depressing. I think one should realise that it is never the end of the world if one thing doesn't work out. There are alternatives and qualities that you need to find in yourself to shine.
You are also into motivational speaking, tell us more about it.
I really believe in giving back to the society. We are so encompassed in our own little world that we forget the cycle of karma. If life has given us so much, why not share the knowledge with others. Because knowledge grows when shared.
According to you, what's missing in today's shows that they get wrapped up so soon?
Soul. There is no dearth of creativity around, but the love and passion is missing. Stories should be told from the heart as that is the only way it can connect with the masses.
Who has been your biggest support?
I think I would credit it all to my family. They have been my greatest support. My elder sister is in the civil services and my younger sister is an artist. Seeing them do so well in their respective careers is really motivating. Also, my mother is a very creative person and I think art runs in our genes. We are also a very close-knit family with a modern outlook to life, making it easier for us to bond so closely.
What's in store now?
I have so many ideas in my mind and wish to working on it. Producers are open to approach me and trust me with their shows. I am not flaunting, but I feel I can set up a show really well. After being in the industry for so long, I have a clear picture of what works on TV.
Ad, TV and films, what interests you the most?
I think I enjoyed every phase of my career and loved been part of it. The big screen definitely attracts me the most.
So there are plans of making a film?
Yes (smiles)! I am currently working for someone for their film, but I cannot talk much about it. As for me, I will definitely make my film one day.