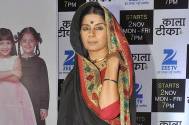 TRPs are utter nonsense: Mita Vashisht
One of the most awe-inspiring and powerful personalities of the small screen, Mita Vashisht, who has ruled both the small and big screens with her brilliant performances, has made her comeback with Zee TV's new social drama Kaala Teeka.
The veteran actress, who is an institution in herself, spoke about her role, journey, reality shows and more.
You are very choosy when it comes to work, so how difficult was it for you to say no to producers?
It's not at all difficult because you would feel the same like getting married to a guy whom you don't love. I don't take up a show just for the sake of money or screen presence. I would rather sit at home and explore my hobbies. You won't believe that when I took up Kaala Teeka, I was thinking how I was going to manage to shoot 25 days a month. All of a sudden, I started imagining myself tied with chains around my neck. I started questioning myself on my swimming, music, yoga, trips and all. But now I have scheduled my routine properly, so that I don't have to sacrifice anything.
What matters to you more- a good scrip or money?
The one thing I have realized is that I don't need to work anymore to prove that I am a good actress. I can't do stuff just for the sake of it. But at the same time, if you are not actively accessible in the market, your availability gets limited.
Any myths about you that you want to break?
I don't know why people are scared of me. I want to break this myth that I am too nasty and difficult. Yes, I am difficult as I believe in quality, but I am not at all nasty. I don't eat people for breakfast, lunch and dinner (laughs). Another myth about me is that I can't do comedy but only serious roles.
Your take on reality shows?
I don't mind participating in dance reality shows as I enjoy dancing. I was offered Bigg Boss the very first season and they asked me to get locked up in a house for three months. And I asked them if they were crazy! If I don't see a beach in every three days, I go mad. But at the same time, I must participate and talk about things that matters. Even if you get out in third round, you still convey things that you want to.
In the TRP race, mostly shows goes off track, so are you scared that the same scenario will happen with this show as well?
As long as I am getting to perform, I have no issues. I am pretty open to things but if they are focusing on me alone because I am famous, I will either charge a bomb so that they throw me out of the show or I will get out of it myself.
With this kind of bindaas attitude, have you made lot of friends or stayed aloof?
I am a very private person, but I have many wonderful friends in the industry. Most of the friendships I won't talk about as I feel it is very personal.
Tell us a little bit about your personal life?
I was married, and was later divorced. But nobody is aware of it. So that's it. I have nothing more to say.
Do you take the famous TRP pressure?
I don't believe in TRPs. It's utter nonsense. I have a reason to explain when there are ten thousand weddings taking place on the same day and that day your TRPs will definitely dip as people will attend weddings and not watch your TV shows. And due to the dip in TRPs, there are sudden changes in the plot.
Do you miss working with your previous show cast?
That was a different time. I am very lucky that I had that time and I lived it. I am sure many young actors these days won't even know what life is. They are very conscious about their looks and profession wherein we were quite bold and didn't care about anything.
Keep up the good work, Mita!