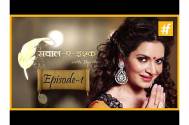 TV actress Shweta Kawatra marks her digital debut with #fame Bollywood
In love, as in life, there are crossroads when one tends to get lost. In love though, it is usually tough to sail through such times and the need for a guide is felt big time. Love, however, being personal only allows you to share your feelings with somebody who can understand you, and be on the same emotional wavelength.
So if you have fallen in love, see it blossoming or don't know how to go about it and even win your beloved back, you need not worry anymore for loveguru Shweta Kawaatra is here to help you see the rainbow of the cupid strike. Your modern day love guru with a traditional twist, Shweta is here to solve your issues of the heart on her show Sawaal-e-Ishq on #fame Bollywood. Already flooded with accolades and admiration, Shweta ji (as she is popularly referred to, by the audience) interacts with audiences on whatsapp at 7738376667
Sensitive and experienced, Shweta believes in heart-to-heart talks and in the first episode of Sawaal-e-Ishq reveals to us the magic of love at first sight. Getting up, close and personal, Shweta steers those in the majdhaar of love life with beautiful ease. She reminds that love is worship and not a relationship. As we know that pyaar laye jeevan mein bahaar, Shweta in her own touching way informs us that "Pehla pyaar is sadabahaar".
An excited Shweta says, "I am excited to start my digital journey with #fame and Sawaal-e-Ishq. Today, internet is the most influential medium and the idea of becoming a 'loveguru' on this space will help me connect with my audience on a mass scale. The show allows me to connect with the youth who are often confused about their love, life and relationships. I am happy to don a new hat and help them crusade through the matters of their heart."
If you are in love or seeking to fall in love or get over the unforgettable love knots, meet and seek Shweta's advice. Come fall in love with Sawaal-e-Ishq with Shweta on #fame Bollywood
You can watch interesting videos on the #fame network on www.youtube.com/livyourfame, Daily Motion and WeChat, or follow them on www.facebook.com/livyourfame and Twitter @livyourfame