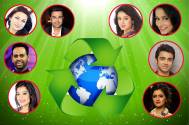 TV Stars Give Tips to Save Environment
They are your favourite onscreen heroes and heroines. They wear no capes, but are there with you, every evening, entertaining you, taking away all your worries and sorrows.
They make you smile, laugh, cry, and what not. They are part of your extended family. And today on World Environment Day, they beseech you to do your bit to protect Mother Nature.
Heed to their tips:
Divyanka Tripathi
I feel the best way is not to pollute the vicinity. One can do so by following basic things like checking the P.U.C level of your vehicle, burst less fire crackers, not contaminate water and opting for recycling.
Paridhi Sharma
Follow Swacch Bharat Abhiyaan rigorously. Follow rules of clean India. One should make optimum utilization of resources, save water and do plantation.
Digangana Suryavanshi 
We shouldn't litter as it leads to water contamination and cause diseases. It is necessary to keep yourself and your surroundings clean.
Manish Paul
I don't think any tip are needed to be given as we all know what to do to save our mother earth. It's just about putting those dos n don'ts to practice and put it to practice before it's too late
VJ Andy
Saving water is necessary. Getting into the habit of recycling and buying locally grown products would help. Also, use the AC in limits. Also reuse outfits and pass it down to others in need.
Samridh Bawa
The two simple steps that need no extra efforts are- avoid littering and avoid wastage of water. Throw garbage only in the dustbin. Plus, I love keeping a bowl full of water outside my house for birds as that makes me happy, after all they are a part of the environment too.
Aneri Vajani
What we are doing to the forests is nothing but a mirror reflection of what we are doing to ourselves and to one another. So don't cut down trees.
Mihika Varma
Not littering, switching off the lights and fans when leaving rooms, not wasting water, not wasting food, not plucking flowers and leaves has been a habit since childhood. For me every day is world environment day. It's a process, a responsibility, an effort. It's actually as simple as the effort we put in all our relationships. Nurture your surroundings.
Surely, following some of these tips might just help you to do your bit to conserve the environment.